Patrick Deschamps, Gen'Etiq founder (label producer)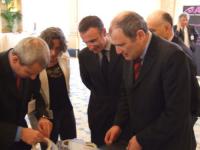 Patrick DESCHAMPS presenting our anti-counterfeiting ISA system to Mr. François LOOS, Industry Minister of state, Mr. Marc-Antoine JAMET, President of the Producers' Union and Mrs. Christine Laï, CEO of the Producers' Union during the UNIFAB Forum in 2006.
After having followed a mechanical and automatism formation, Patrick DESCHAMPS, creator of GEN'ETIQ, entered in the label world in 1987.
He wished to create a company which would be able to answers the customers' needs in offering them a personalized one adapted to a special application, without being limited to a simple catalogue.
Passionated by all the existing and new technologies, looking for efficient and expert partners, he combines them to create for you the solution meeting your needs.